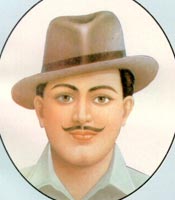 Shaheed Bhagat Singh did not live long. In fact Bhagat Singh was all of 24 years when he was sent to the gallows along with fellow comrades Shivaram Rajguru and Sukhdev Thapar. But during this short span, Bhagat Singh shone like a gleaming meteor in the Indian sky and inspired millions with his heroic battle against the oppressive British regime.
Born into a Sikh family of revolutionary leaders, it was only a matter of time before Bhagat Singh plunged into the struggle for freedom. From an early age he was influenced by socialist ideology and his embracing of armed struggle had as much to do with the success of socialist revolutions elsewhere in the world as with his disillusionment with the prevalent political leadership. He read extensively and wielded a powerful pen.
A great organizer, Bhagat Singh united the restless youth of the day under the aegis of Hindustan Socialist Republican Association and gave a direction to the fledgling armed struggle. Even though he could not achieve freedom for India, Bhagat Singh's martyrhood stirred up the nation and inspired millions of Indian youth to fight against British oppression. While the leadership of Mahatma Gandhi and the Indian National Congress are usually credited for India's independence, the sacrifices made by Bhagat Singh and his comrades too are glorious chapters in India's history.