Diwali, the festival of lights is one of the most prominent festivals of Hindus, which is celebrated with great pomp and show. Lavish arrangements are made for the celebration of the colorful Hindu festival of Deepavali. The festivity has a lot of religious significance for the people of India. It celebrates the triumph of love and friendship over evil and hatred. It spreads light and awareness by overcoming the darkness. Read on to know more about the Deepawali, the festival of light.
The Diwali festival preaches the lesson of strengthening the bondage of love and friendship by breaking the barriers of enmity. Diwali usually falls on the Amavasya, the 15th day of the Hindu month of Ashwin. Diwali in the year 2017 will be celebrated on 19th October.. The celebration of Diwali in India takes place with splendid grandeur. The festivity conveys the message of overcoming ignorance that tends to hinder the path of the light of knowledge.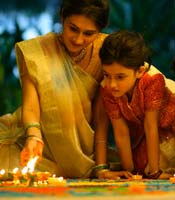 Diwali is the favorite festival of Indians, especially the kids, who are fond of firecrackers. It is on this day that people dressed up in beautiful colorful attire; embellish their homes with various kinds of decorative items. Banners of happy Diwali are placed on the main entrance of the house, so as to give a warm welcome to the guests.
In the evening time, Laxmi Puja is conducted. Thereafter, people exchange greetings and sweets. They embrace each other and wish a very Happy Diwali. Kids seek the blessings of the elders. The houses are decorated with diyas, candles, lamps and colorful lights. If you look around from the balcony of your house, the sight of the lighted houses will be a real feast for the eyes. It will make you feel as if you are in some fantasy world. Year by year, at the time of Diwali festivity, the markets are witnessing an increasing growth in the sale of lights, candles and fireworks.
In this section, we will brief you on the following aspects: