For the outside world, the Taj Mahal is synonymous with India and Indian ethos. Over the years, this majestic specimen of Mughal architecture has beckoned tourists from all over the world with its opulence and the innate tale of Emperor Shah Jahan's undying love for his beloved queen. While awestruck tourists have marveled at the extravagance all around, poets and literateurs have eulogized the Taj as the 'Eternal Monument of Love.'
Apart from eloquent panegyrics, the Taj Mahal has long been regarded as one of the Seven Wonders of the World alongside famous structures such as the Great Wall of China and the Pyramids of Egypt. The Taj Mahal is one of the frontrunners in an ongoing global campaign launched to officially select the new Seven Wonders of the World.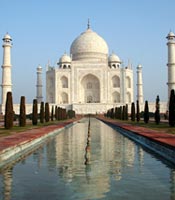 Today the Taj Mahal has metamorphosed into one of the prominent icons associated with India. A flourishing tourism industry has come up in Agra that relies heavily on the allure of the Taj. In addition to the hordes of regulation tourists, the Taj Mahal also figures prominently in the itinerary of visiting dignitaries and statesman.
Taj Mahal Architecture
The finest and the most spectacular edifice of the Mughal era, the architecture of Taj Mahal imbibes myriad elements of Hindu, Persian and earlier Mughal architecture. While the white marble mausoleum is usually the cynosure of all eyes, the sprawling complex of Taj Mahal comprises a main gateway, an elaborate garden, a mosque (to the left), a guest house (to the right), and several other palatial buildings.
Taj Mahal Facts
The Taj Mahal is steeped in rich history and captivating legends. With its opulent structure and romantic connotations, the Taj Mahal has spawned a wealth of facts and information that often astounds the uninitiated.
Taj Mahal History
The Taj Mahal history is essentially the tale of an emperor's undying love for his beloved queen. This magnificent edifice was erected by Mughal Emperor Shah Jahan as a mausoleum for his queen Mumtaz Mahal. Shah Jahan was the fifth ruler of the powerful Mughal Dynasty which held sway over vast swathes of India between sixteenth and nineteenth centuries.
Taj Mahal Location
The Taj Mahal is located in the historic city of Agra in the North Indian state of Uttar Pradesh. The location of Taj Mahal on the banks of river Yamuna makes for an enchanting spectacle. The city of Agra was established in 1475 by Badal Singh and after a brief period of rule by the Lodhi dynasty, it eventually fell to the Mughal invaders led by Babur.
Taj Mahal at Sunset
An edifice of massive proportions, the Taj Mahal is unrivaled for its majestic grandeur and sheer opulence. The culmination of over 22 years of painstaking craftsmanship, this monument of love is a masterpiece representing artistic virtuosity at its best.