Kishore Kumar was no ordinary mortal. There is no second opinion about that. He was a sublime genius with the customary trappings of eccentricity and madness. Gifted with the most precious vocal talents, Kishore Kumar held sway in Hindi film music with a slew of memorable renditions delivered in his inimitable style. He was a producer, director, actor, singer, composer, lyricist all rolled into one.
Kishore Kumar didn't have it easy. He was dismissed as a nonentity and no composer was willing to bet on his singing prowess. But Kishore persisted and his perseverance eventually paid off with the chartbusting numbers of Aradhana. He went on to become one of the greatest playback singers ranking alongside the likes of Mohammed Rafi and Mukesh.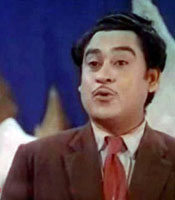 Kishore Kumar was no less as an actor. A bunch of hilarious comedies such as Chalti ka Naam Gaadi, Half Ticket, Padosan, and Hungama lend credence to his acting prowess. Today Kishoreda is no more, but he remains etched in our minds courtesy his scores of priceless songs.
As an Actor
Kishore Kumar always aspired to be a singer while the acting career was largely thrust upon him. A young Kishore was expected to emulate the success of elder brother Ashok Kumar and his lack of training in classical music was seen as a hindrance to a possible career in playback singing.
Awards
At his prime Kishore Kumar's dominance in Hindi film music was so absolute that virtually all other singers were reduced to mere also-rans. Kishoreda's unrivaled stature was borne out by the plethora of awards and laurels that come his way with amazing regularity.
Life of Kishore Kumar
Kishore Kumar was born Abhas Kumar Ganguly on August 4, 1929 in the town of Khandwa in Madhya Pradesh. The youngest of the four siblings, Kishore was in his teens when elder brothers Ashok and Anoop Kumar made forays into the Bollywood filmdom.
Kishore Kumar Songs
The songs of Kishore Kumar are a true reflection of his awesome singing talents. For a singer bereft of formal training in music, Kishore Kumar churned out some of the evergreen classics in Hindi film music. After imitating K. L. Saigal during the initial period, Kishore developed his own style of singing characterized by yodeling.