A master storyteller, Satyajit Ray belongs to the highest echelons of world cinema. Regarded as one of the greatest filmmakers of all time, Ray mastered the craft of storytelling through simple yet emotive narration. Despite being made in a vernacular language, Satyajit Ray's films appeal to a universal audience with their subtle depictions of the spectrum of human emotions and relationships.
Pather Panchali, Ray's debut film, remains a landmark in his illustrious career. It is considered as one of the classics in neorealist cinema. The film is notable for the way the most mundane of occurrences have been imaginatively captured through the eyes of child protagonist Apu. Aparajito and Apur Sansar, the other two films of Apu trilogy, also received rave reviews from critics and viewers alike.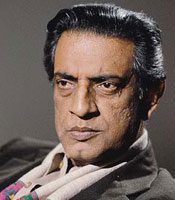 Satyajit Ray is also known for his contributions to Bengali literature. Detective Feluda and Professor Shanku are two of his popular literary creations.
Apu Trilogy
Apu trilogy refers to the three films by Satyajit Ray that revolved around the central protagonist Apu, a young kid in the Bengal hinterland. Pather Panchali, the first film of the trilogy, was based on a novel of the same name by Bibhutibhusan Bandopadhyay
Awards
Satyajit Ray was no alien to awards. Ray's virtuosity in the art of filmmaking fetched him awards and laurels aplenty. From Pather Panchali to Charulata, all his masterpieces bagged honors in prestigious film festivals.
Life of Satyajit Ray
Satyajit Ray was born on May 2, 1921 in Calcutta into a Bengali family of a distinguished cultural lineage. After graduating from the famous Presidency College of Calcutta, Ray enrolled in the Visva-Bharati University founded by noted poet Rabindranath Tagore.
Literary Works
Apart from being a master filmmaker, Satyajit Ray was also a versatile litterateur known for his eloquent verse. Literature was another avenue for the expression of his creative talents. Be it detective fictions or film anthology, Ray's literary works bore the hallmark of the powerful pen he wielded.