Mother Teresa (August 26, 1910 - September 5, 1997) was a great personality, who did a lot to improvise the social condition of our country. Born on the 27th of August in the year 1910, she was named Agnes Gonxha Bojaxhiu. She belonged to a family of Albanian descent. She was the founder of missionaries of charity. She was actively involved in social work.
Due to her immense contribution in serving the society; she was awarded with Nobel Peace Prize. Well, in this article, we will provide you with the biography of Mother Teresa, which will enable you to explore the life history of Mother Teresa. The story of mother Teresa is very inspiring. Check out the facts about Mother Teresa…
Early Life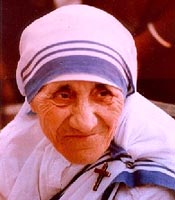 She was born and brought up in a Catholic family. When she was only seven, she lost her father. Even as a young child, she was fascinated by the life of missionaries. At the age of 18, she decided that she would become a nun. She left her house and went to join the sisters of Loreto. This was the first step that she made towards providing services to mankind.
Missionaries of Charity
On the 7th of October in the year 1950, Mother Teresa got the Vatican permission to start the missionary of charity in Calcutta, the mission of which would be to take care of the poor, needy, crippled, homeless, and people who are shunned by the society. The missionary has got a number of branches all over the country. The journey of Mother Teresa's missionaries of charity started with the setting up of home for 'the Dying' in space. More…
Deteriorating health
In the year 1983, Mother Teresa suffered from a severe heart attack, while she was in Rome. However she recovered. But, later in 1989, she again got an attack. Her health kept deteriorating and in the year 1991, she suffered from Pneumonia. Taking into consideration her health problem, Mother Teresa decided to resign from the post of head of the order.
A secret ballot was conducted in which all the nuns, except for Mother Teresa, voted for the stay of Mother Teresa. So, she agreed to continue serving as the head of the missionaries of charity. Day by day her health was getting worse. On the 13th of March in the year 1997, she left the post of head of the order. On the September 5, 1997, exactly nine days before her 87th birthday, this great soul departed for heaven.
Mother Teresa Award
The Mother Teresa award contains a very accurately designed figure resembling a devotional statue. Seeking the help of One Moment Productions (specialized in the task of custom castings), R.S. Owens created the Mother Teresa statuette. It portrays Mother Teresa as holding rosary in her one hand and the other hand is placed on her heart. Her head is depicted as raised high towards the heaven, which conveys the message that, whatever we choose to do or perform, should be for the glory of God. More…