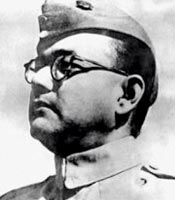 The Indian independence movement witnessed a great many leaders laying down their life for a free India. While the majority of them have faded from the public memory, it is Netaji Subhash Chandra Bose alone whose legacy continues as a legendary figure. He was a fierce patriot, a visionary leader, a great orator, flamboyant revolutionary, all rolled into one.
Subhash Chandra Bose always walked his talk and courted controversy throughout his life. Despite being elected twice as president, his strong views and firebrand politics often raised heckles within the Congress Party. But such was Bose's aura and magnetism that even those differed with him could not help but appreciate his undying love for the nation.
Subhash Chandra's colorful and daring exploits in foreign lands endeared him to the millions of Indians who worshipped him as a cult figure. Bose's alleged death in mysterious circumstances has only served to augment his legend manifold. Subhas Bose had his share of detractors and critics. He was dubbed a fascist and was criticized for seeking help from Nazi Germany and imperialist Japan. All these harsh opinions notwithstanding, Subhash Chandra Bose lives in the Indian conscience a brave hero and a true patriot.