Pongal is a harvest festival that is celebrated with grandeur in Tamilnadu. It is one of the most long awaited festivals in Southern India. Many days before the coming of Pongal festival, people start making preparations for its celebration. It is a four day long festive occasion that is observed to offer thanks to the Mother Nature. As far as the Pongal festival date is concerned, it usually falls on the 15th in the month of January, at a time, when rice, cereals, sugarcane and other major crops are harvested. Read on to know more about Pongal in India. ..
In this section, we will brief you on the following aspects related to the Pongal festival:
Pongal History
The origin & history of Pongal can be dated back to the times of Sangam Age i.e. from 200 B.C. to 300 A.D. The Sanskrit Puranas also contain mentions of Pongal. Initially Pongal festival was celebrated as a Dravidian Harvest festival.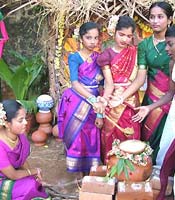 Four Days of Pongal
The celebration of the Pongal festivity continues for four consecutive days. The festival usually falls in the month of Shravan. It is basically a harvest festival that is celebrated with fervor and gaiety by the people in the Southern states of India. The harvest festival of Pongal witnesses a lot of activities. Infact, the entire South India comes alive, when it's the time for Pongal celebrations.
Pongal Celebrations
The Pongal festivity usually falls on the 15th of January. For the Tamils, it is one of the most prominent festivals, the celebration of which takes place with full enjoyment and enthusiasm. The entire South India gets actively involved in its preparations. The chilly weather serves like a messenger for the people of South India, as it intimates them about the coming of Pongal festivity.
Pongal Kolams
When it's the time for Pongal festivity celebration, almost all the houses in the entire South India are adorned with beautiful colorful Kolams. Elaborate designs are drawn using white and other color powders. The tradition of Kolam making is not new. Infact, it can be traced back to the times of the Indus Valley Civilization (2500 B.C).