Mohammed Rafi is a legend in the realm of Indian film music. In a career spanning 35 years, Rafi sahab, as he was fondly known, crooned his way into the heart of millions of Indian music buffs with scores of soulful renditions. As a playback singer Mohd Rafi's virtuosity was unsurpassed and twenty five years after his death, his classic numbers still hold their own in the burgeoning Hindi film music industry.
The versatile genius that he was, Mohammed Rafi formed formidable pairs with almost all the composers he worked with. From Naushad to O. P. Nayyar, from Laxmikant-Pyarelal to Ravi, the noted composers of Bollywood made a beeline to work with Mohd Rafi. Rafi's voice also led credence to the film characters played by actors such as Dev Anand, Dilip Kumar, Guru Dutt, Shammi Kapoor and Rajesh Khanna.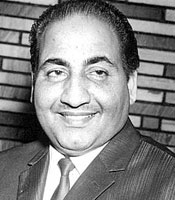 In spite of his unrivaled stature in the music industry, Mohamed Rafi was humility personified all his life. Adulations and accolades never had an impact on his unassuming persona. Rafi Sahab would surely be remembered as one of the titans of Indian film industry.
Awards
Throughout his playback singing career Mohammed Rafi reigned supreme in Bollywood delivering classic numbers with unfailing regularity. The film industry recognized Rafi's amazing talents and bestowed him with awards and laurels galore.
Mohammed Rafi Facts
During his heydays, Mohammad Rafi took playback singing in Bollywood to a sublime level with his masterful renditions. Rafi's colorful singing career is replete with facts and anecdotes that shed a light on his immense contribution to Hindi music.
Life of Mohammed Rafi
Mohammed Rafi was born on December 24, 1924 at Kotla Sultan Singh, a town near Amritsar in Punjab. That Rafi was gifted with precious vocal talents became evident at a tender age and his elder brother Hamid took upon himself the onus of grooming Rafi's budding career.
Mohammed Rafi Songs
Mohammed Rafi is no more but his legacy continues in the scores of unforgettable songs he churned out during his illustrious career. As a playback singer, Rafi's versatility was unrivaled and his masterful renditions enhanced the screen roles enacted by some of the Bollywood's greatest actors.