Guru Nanak, the first Guru of Sikhs, was born to the Bedi family in Nankana Sahib, Punjab on the 20th of October in the year 1469. This great personality was the founder of the Sikh religion. Guru Nanak Dev Ji is revered not just by the Sikhs, but also by the Hindu Punjabis & Sahajdhari Sindhis. The writings that contain the stories related to the Nanak life history are known as the Janams?kh?s. In this article, we will provide you with the biography of Guru Nanak Dev ji, so read on…
Life
People are of the belief that, at the time of birth of Guru Nanak, an astrologer was called upon to prepare his horoscope. The astrologer insisted on meeting him and worshipped Guru Nanak with folded hands. At a young age of five, Nanak began discussing on spiritual subjects. When he was seven years old, his father got him enrolled in the nearby school village for pursuing studies. However, very soon, he left the school and started taking private classes.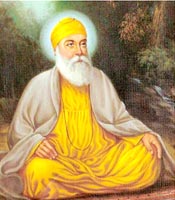 At the age of thirty, he was found to be missing and people though that, he has drowned in the stream, where he used to go everyday for taking bath. He came back after three days and started saying that "There is no Hindu, there is no Muslim". Since then, he started teaching people and this laid the foundation for the beginning of Sikhism.
Family Life
Nanak was married to a woman named Sulakhni, the daughter of a rice trader named Moolchand Chona. They were blessed with two sons. The elder son named Sri Chand turned into an ascetic. On the contrary, the younger son named Lakshmi Das was deeply involved in worldly life. Guru Nanak didn't find his own sons suitable for carrying on the Guruship. He instead handed over this responsibility to one of his favorite disciples named Lehna. Bhai Lehna was later named Guru Angad.
Guru Nanak Philosophy
The beliefs & philosophies of Guru Nanak Dev, the first Guru of Sikhs, were not very popular in the beginning. But, today, it is the teachings of Guru Nanak that are ruling the lives of Sikhs. The three teachings of Guru Nanak Dev Ji are known as Nam Simran, Kirt Karo and Wand Chako. The term 'Nam Simran' means think about God. 'Kirt Kaara' preaches people to lead a normal life by earning their living through hard work and honesty. 'Wand Chhako' means to share whatever spare things you have with poor and needy people. More…
Guru Nanak Jayanti
The birthday of Gurus is more often referred to as Gurupurab. When it comes to Gurupurab, the birthday of the first Guru of Sikhs, i.e. Guru Nanak Dev is known as the Guru Nanak Jayanti, which is celebrated with gaiety and fervor in India. Guru Nanak Jayanti has a lot of religious significance for the people of Sikh religion. Born in the year 1469 at a place called Talwandi, which lies at a distance of about 50 kms from Lahore, Guru Nanak Dev Ji was the founder of Sikh religion. More…