The Iron Pillar at Delhi is an intriguing piece of architecture well-known for its astonishing resistance to corrosion for over 1600 years. Located at the center of the Quwwat-ul-Islam mosque, the Iron Pillar is the solitary Hindu relic in the sprawling Qutb complex constructed by Qutb-ud-din Aybak after plundering the existing Hindu temples. The Brahmi inscriptions engraved in the pillar credits Gupta king Chandragupta II Vikramaditya (375 AD-414 AD) with the construction of the Iron Pillar.
The Iron Pillar, 7.5 meter tall and weighing approximately 6.5 tonnes, is made up of 98% wrought iron of pure quality. The Iron Pillar of Delhi is considered a tribute to Lord Vishnu, the patron deity of the Gupta kings and it is believed that once a figure of Garuda, the carrier-bird of Vishnu, crowned the capital of this slender pillar. The inscriptions mention that the pillar was originally located at a place called Vishnupadagiri and historians have identified this place as modern-day Udayagiri.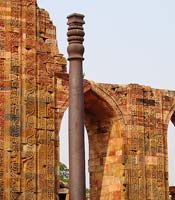 But how and, more importantly, why the Iron Pillar was later relocated to Delhi remains a question shrouded in mystery. Even the amazing rust-resilient nature of the pillar had been a baffling riddle for archeologists and metallurgists. However a recent study by IIT, Kanpur claims to have unraveled the mystery. Nevertheless, the Iron Pillar of Delhi is a glowing testimony to the virtuosity of ancient Indian iron-smiths.
Corrosion Resistance
The celebrated Iron Pillar of Delhi is widely regarded an architectural wonder for the way it has defied rust through the last 1600 years. The Iron Pillar has long been an enigma for metallurgists who have been unable to unravel the reason behind this stubborn resistance to corrosion. Made of 98% wrought iron, this tall, sleek pillar is a bona fide proof of the mastery Indian ironsmiths achieved in the extraction and processing of iron.