Onam is one of the most prominent festivals of Kerala, which has a lot of significance for its people. Celebrated with fervor, the entire nation gets passionately involved in the Onam festivity. There is an interesting legend associated with it, which says that, the festivity is basically dedicated to the king Mahabali. People are of the belief that, the spirit of the king gives an annual visit to the people of this land. Read on to know more about Onam in India.
Onam festival is mainly a harvest festival, the celebration of which takes place in the beginning of the month of Chingam, which is the first month according to the Malayalam Calendar. As per the Gregorian calendar, the Onam festival falls during the period between August and September. The Onam festival date in the year 2018 from 15-27 August.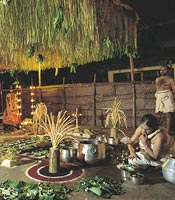 In this section, we will brief you on the following aspects related to Onam:
Onam history
There are many interesting legends associated with the origin & history of Onam. Well, in this article, we will brief you on the Onam festival story. When it comes to the Onam festivity celebration, though the entire nation gets involved, but the Nambudiri Brahmins of Kerala especially take an interest in all the activities, as they connect the origin of Onam with their own community.
Ten days of Onam
The celebration of the grand Onam festivity continues for a long period of ten days in Kerala. However, in some small regions, it is restricted to only four to five days. People are of the say that in the olden times, the celebrations used to take place for a month and that too in a very lavish manner.
Onam celebration
When it comes to Onam festival celebration, people are so excited that there is no barrier of their happiness. The people of Kerala are so high spirited that the entire nation comes to enjoy the Onam festivity with gaiety. The celebration of Onam continues for a period of ten consecutive days, starting with Atham and ending with Thiru Onam.
Onam in Kerala
Onam in Kerala is not just a festivity for making merriment, but has a lot of religious significance for the people of Kerala. It strengthens the faith of people in the power of worship. The festivity of Onam is celebrated on a grand scale in Kerala. Onam is basically a harvest festival, the celebration of which takes place at a time when everything seems to be nice.