Mirabai (1498-1547) is a well known mystic poetess, who had deeply fallen in love with Lord Krishna. Her compositions are widely appreciated in India. In this article, we will provide you with the biography of Brahmacharini Mirabai. To know the complete life history of Meera Bai, read on…
Meerabai's Story
Life
Born at Merta in Nagaur District of Rajasthan, Mirabai is known for her deep love for Krishna. When Mira was six years old, her mother gave her an idol of Krishna, whom she worshipped day and night. At the age of sixteen, her father's elder brother named Viram Deo fixed Mira's marriage with Prince Bhoj Raj, the eldest son of Rana Sanga of Chittor.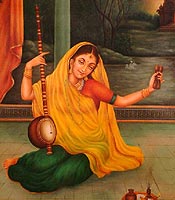 Though, she got married to him, but she never considered him to be her husband. For her, only Krishna was her husband. She was so much in love with Krishna that, she began neglecting her household duties and thus, she ruined her married life. A few years after her marriage, her husband died but Mirabai refused to commit Sati.
People are of the say that, when Mira turned 30, she left the palace and went to Vrindavana in Mathura. She spent most of her time praying and worshipping Lord Krishna. She kept wandering in search for enlightenment. Finally, she went to Dwarka. She went away but left behind her compositions, which consist of several songs and poems. Her love for Krishna was so deep that, it is said that, she got disappeared in the temple of Krishna in Dwarka.
Mirabai Poems
The poems of Mirabai were traditionally known as 'pada', a term that was used in the 14th century to refer to the small spiritual songs. Mirabai composed poems as means to express the deepest feelings of her heart. More…