Nestled amidst a lush green landscape, the Ajanta Caves are ancient Buddhist caves hewn out of basalt rock formations. These caves are located at the Lenapur village in the Aurangabad district of Maharashtra state. The origin of the Ajanta Caves can be traced to the second century BC and there is evidence that the caves were used for dwelling till 650 AD. The Ajanta Caves were accorded the World Heritage Site status by UNESCO in 1983.
The Ajanta Cave complex contains 29 caves which served as retreats for Buddhist monks traversing long distances to preach Buddhism. The Ajanta Cave temples can be categorized into two types depending on their allegiance to either of the two Buddhist schools, the Hinayana and the Mahayana. The Hinayana caves allow only a symbolic representation of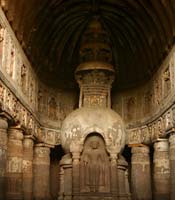 Lord Buddha in the form of stupas or mounds while the Mahayana caves are liberal with the portrayal of Buddha in painting and carvings.
Of the 29 Ajanta Caves, five are chaityas or prayer halls and the rest are viharas or monasteries. The chaityas are the caves 9, 10 from Hinayana and the caves 19, 26 and 29 from Mahayana. All the other 24 caves -- caves 1-3, 5-8, 11-18, 20-25, and 27-28 -- are viharas. The five Hinayana caves (9, 10, 12, 13 and 15A) came up in 200BC while the Mahayana caves were excavated in 5th century CE (462 to 480 CE).
The interiors of the Ajanta caves are embellished with elaborate paintings that illustrate various events of Lord Gautam Buddha's life and the popular Jataka tales pertaining to Buddha's previous incarnation.