The Taj Mahal is located in the historic city of Agra in the North Indian state of Uttar Pradesh. The location of Taj Mahal on the banks of river Yamuna makes for an enchanting spectacle. The city of Agra was established in 1475 by Badal Singh and after a brief period of rule by the Lodhi dynasty, it eventually fell to the Mughal invaders led by Babur.
How to Reach the Taj Mahal
By Air:
The Kheria Airport of Agra is located 7 km from the city center. Indian Airlines operates daily flights to from Delhi to Agra. It takes around 40 minutes to reach Agra by flight from Delhi.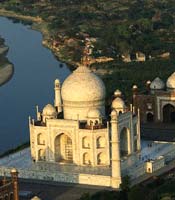 By Rail:
Agra enjoys excellent train connectivity to Delhi. The Agra Cantonment station is the major railhead in the city. Trains such as the Shatabdi Express (2 hrs), Taj Express (2.5 hrs), Intercity Express (3 hrs) run from Delhi to Agra.
By Road:
Because of the location of Taj Mahal in Agra, one can easily reach it by bus services. Buses ply regularly to Agra from Delhi (203 km), Jaipur (236 km), Lucknow, Gwalior (118 km), and Mathura (58 km).