The finest and the most spectacular edifice of the Mughal era, the architecture of Taj Mahal imbibes myriad elements of Hindu, Persian and earlier Mughal architecture. While the white marble mausoleum is usually the cynosure of all eyes, the sprawling complex of Taj Mahal comprises a main gateway, an elaborate garden, a mosque (to the left), a guest house (to the right), and several other palatial buildings. The Mausoleum is located at the farthest end of this complex, near the bank of river Yamuna.
The Gateway
Built of red sandstone, the massive gateway serves as the entrance to the Taj complex. The gateway is replete with Mughal architectural details with the archways bearing a resemblance to those of the tomb's. The Persian pishtaq arches are engraved with calligraphic verses from the Holy Koran. The vaulted ceilings and walls display a profusion of intricate geometric designs similar to other sandstone buildings of the complex.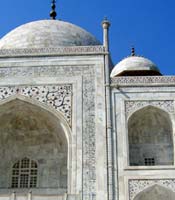 The Charbagh Garden
The lush green charbagh garden is spread around the Taj complex. As evident from the name, the garden is divided into four parts with each quarter again divided into 16 flowerbeds by raised pathways. Even though rectangular charbagh gardens feature a dome in the center of the garden, in the Taj garden the tomb is located at the end of the garden. One can see a reflection of the Taj Mahal in the marble water tank at the centre of the garden.
The Mausoleum
The magnificent mausoleum made of pristine white marble stands on a high, square plinth which has four lofty minarets at its four corners. The main chamber of the tomb houses the cenotaphs of Shah Jahan and Mumtaz while the actual graves are in the basement of the structure. The central bulbous dome atop the tomb is a fine piece of architecture and is flanked by four smaller domed chattris. The dome is crowned by a gilded finial which incorporates Hindu and Persian decorative elements.
The entire mausoleum is embellished with exquisite decorations and carvings. The decorations, which can be found both at the exterior and interiors, take the form of calligraphy, geometric patterns and vegetative motifs. When one steps inside the Taj Mahal, one is left starry eyed by the magnificent lapidary work done with precious and semiprecious gemstones.
Truly, the Taj Mahal architecture is the manifestation of artistic craftsmanship at its sublime best.