The crown jewel among the Ellora caves, the Kailash temple epitomizes the zenith of ancient rock-cut architecture. Also known as the Cave 16, the Kailash temple is an awe-inspiring edifice with its massive proportions and exquisite carvings. The fact that the temple is regarded the largest monolithic structure in the world speaks volumes about the sculptural wizardry involved.
Hewn out of a massive residual rock, rising 30 meters, the Kailash temple represents the Kailasa peak, the Himalayan abode of Lord Shiva. It is believed that construction of this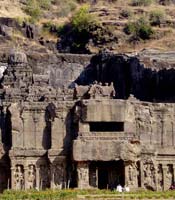 humongous cave temple was patronized by Rashtrakuta king Krishna I and it was completed after excavating a staggering 200,000 tones of rock. If the magnitude of the task was mind-numbing, the process of vertical excavation was equally arduous. Carvers started at the top of the original rock, and excavated downward.
The composite temple structure is divided into four main parts: the body of the temple itself, the entrance gateway, a nandi shrine and the corridors ringing the courtyard from three sides. Built in a pyramidic architecture, the temple is replete with pillars, windows, inner and outer rooms, gathering halls, and an enormous lingam at its heart - carved from stone.