An edifice of massive proportions, the Taj Mahal is unrivaled for its majestic grandeur and sheer opulence. The culmination of over 22 years of painstaking craftsmanship, this monument of love is a masterpiece representing artistic virtuosity at its best. The white marble façade of the Taj Mahal conspires with the sun to exude different hues throughout the day.
One can have the most spectacular view of the Taj Mahal at sunset. As the sun sets in the horizon, the silhouette of the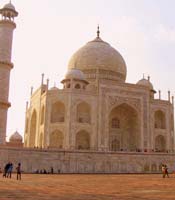 Taj Mahal against the crimson sky presents a stunning spectacle. This phenomenon is pretty well-known and as such tourists descending in Agra make a beeline for enjoying the beauty of the Taj Mahal at sunset.
At dawn, as the first streaks appear in the sky, the Taj Mahal drapes itself in a pearly pink shade. During the sweltering hot afternoons in Agra, the ethereal exteriors of the Taj Mahal almost threatens to disappear. As darkness sets in, the Taj exudes an opalescence with its translucent stone glowing under moonlight.