The Ellora caves represent a unique synthesis of Buddhist, Jain and Hindu cave temples, all scooped out of the vertical face of the Charanandri hills. Located in the Velur village of the Aurangabad district in Maharashtra, the Ellora cave complex is home to 34 cave temples and monasteries. Out of these, 12 are Buddhist, 17 Hindu and 5 Jain caves. Ellora caves have been declared a World Heritage Site by UNESCO. Most of the caves were built between the 5th century and 10th century.
The Buddhist caves date back to the fifth and seventh centuries and are the oldest caves in the Ellora cave complex. Most of these multi-storeyed structures, equipped with living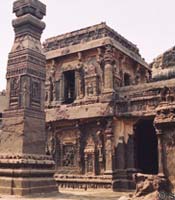 quarters, sleeping quarters, kitchens, served as viharas or monasteries for Buddhist monks. The cave 10, popularly known as the 'Carpenter's Cave,' is the most famous of the lot and enshrines an impressive 15 feet statue of Buddha seated in a preaching pose.
The Hindu caves were built in the beginning of the 7th century and are remarkable for their creation by scooping rock from top to bottom. Of these, the Kailasanatha temple is a veritable architectural marvel for the sheer complexity involved in carving the massive structure from a single rock. The Jain caves are the most recent of the Ellora caves.