Diwali, the festivity of lights, is celebrated on a grand scale in the whole of India. It is one of the most popular festivities of the country that is celebrated with splendor and grandeur. India is well known for its Diwali festival celebration. The trend of celebrating Deepawali is not new. Since times immemorial, people have been enthusiastically participating in the Diwali celebrations. In this article, we will provide you with information on the
Diwali celebrations
in India.
The essence of Diwali lies in spreading the light of knowledge. It teaches us to leave the path of enmity and resort to friendship. Amidst the hustle bustle of the city life, we get so lost in ourselves that we forget to thank those who are special to us. There are many people in our lives, who deserve thanks for making us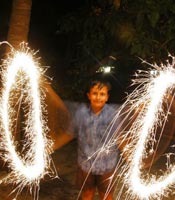 become, what we are today. Diwali is the right occasion to do that. On one hand, where it gives you an opportunity to strengthen your bondage of love and friendship, then on the other hand, it preaches you to forgive people and replace hatred with love.
When it comes to Diwali celebrations, there is a spark in the eyes of each and every person. Everybody feels excited at the thought of adorning their sweet homes with various kinds of decorative items like candles and small clay lamps. People start making the festivity preparations many days before Diwali. The family members get engrossed in the task of cleaning their houses. Banners of Happy Diwali are placed on the main entrance door.
Ladies draw beautiful rangolis, in the designing of which they incorporate several traditional symbols that are considered to be associated with the Diwali festivity. The cookery shows tell you on how to make yummy mouthwatering dishes for Diwali. The magazines get filled with the Diwali recipes. Old furnishings are replaced with new ones. Melas are held in different parks and gardens, which are especially enjoyed by young children. The highlights of the mela consist of the merry go round swings, cultural programs, snacks stalls and games.
In the evening time, Lakshmi Ganesh puja is performed. People make offerings to the deities and seek their divine blessings. Thereafter, the feast that is specially prepared for Diwali is served to all. People visit temples and pray the deities to shower their blessings on them. They visit their near and dear ones and wish them 'Happy Diwali'. Sweets and greeting cards are exchanged. Kids derive pleasure in burning firecrackers. Card playing also takes place as a part of festivity celebration.