Rakhi is a festivity that celebrates the beautiful relationship that a brother and sister share. It is a very sacred relation that truly deserves a special celebration. It is owing to this reason that, Rakhi festival celebration is given so much importance in India. It is one of the most prominent festivities that are celebrated with gaiety and enthusiasm by the people of India. Read on to know more about Raksha bandhan celebrations in India.
In the contemporary times, dynamism is what is ruling the world. Everything is becoming more and more flexible to cope with the changing times. Same goes for the celebration of Rakhi festivity too. As the rituals and customs have undergone a major transformation, similarly the style of celebration is also witnessing constant changes to suit the modern era. People still value their traditions and the basic essence of celebrating the Rakhi festival has not changed, but yes, the celebrations now take place with splendid grandeur.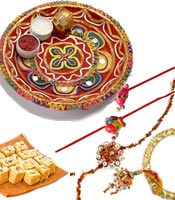 People spend lavishly on every small thing that is associated with the Rakhi festivity. There is a class in everything that people choose to buy. If you go for shopping during the festive occasion of Rakhi, you'll be amazed to see the fabulous variety available in the styles of Rakhis, ranging from simple mouli and zari rakhi to resham and beaded rakhis. Many days before the arrival of Rakhi festivity, people start making preparations for the special occasion. The shopping malls are lighted for welcoming the visitors.
The Archies gallery and other gift shops witness large crowds of people. People throng the shopping malls and the garment stores are simply flooded with people. People shop for new apparels, rakhis, diyas and other gift items for their siblings. Gift items come up in real lucrative packaging and this is what tempts people into buying it. Assorted chocolates are always in demand. The sweet shops and confectionary shops witness maximum business during the festive occasion of Rakhi.
Well, on the day of Raksha bandhan, people get up early and wear their new attire. The day begins with the offering of prayers to the deities. After seeking the blessings of God, the sister brings her thali and performs the aarti. Thereafter, she applies tika on the forehead of her brother by mixing rice and vermillion and then ties rakhi on the wrist of her brother. She offers him sweets and prays for the good health and prosperity of her brother. The brother then presents her a gift and vows that he will protect her till the last breath of his life and promises to stand by her side in her good and bad times. This is how Rakhi festivity is celebrated in India.