Durga puja is a festivity that takes place with great pomp and show in Bengal. Though, it is celebrated in almost all the states of West Bengal, but the celebrations are especially lavish in Kolkata. There are a couple of ancestral houses in Kolkata that have been serving as the main venue for Durga puja celebrations for the many past decades. One of the oldest and the most famous is the heritage house of Sabarna Chowdhurys located at Barisha. Read on to know more about the Durga puja in Kolkata.
Durga puja in Calcutta, India is not just an occasion for sharing joyous moments, but has a lot of religious significance for its people. When it's the time for Durga pooja celebrations, each and every locality of Kolkata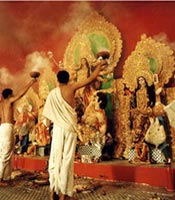 starts making special arrangements. Beautiful pandals are set and adorned with lights. The beautiful images of Goddess Durga are displayed in the pandals. After the performance of special pujas, various cultural programs are held. There are a number of activities to entertain the people like folk music and dance performances.
The shopping malls are flooded with people, who come to buy different decorative items for their household. Women buy jewelry and ethnic clothes. People spend like anything when it comes to Durga pooja festivity. Kolkata is abuzz with activities during the festive occasion of Durga puja. The city turns into a hub of life. Everybody is busy shopping in the markets. There is a festive touch in the air during the Durga puja festivity.