To give a warm welcome to the guests, beautiful rangolis are drawn outside the main gate of the house. Well, the tradition of making rangolis on Deepavali is not new and is being passed on by one generation to the other. It is believed that the deities visit the households that are nicely adorned on the occasion of Diwali. Diwali rangoli designs differ from region to region. In this article, we will give you some Diwali rangoli ideas, which will guide you on how to make Deepawali rangoli.
Diwali rangoli making is the art of adorning the doorsteps of the house with splendid designs. The rangoli is basically a floor painting that is usually based on a theme. Popular motifs include birds, fishes, lotus and snakes, which is indicative of the unanimity between the man and the animals. Celestial images like that of sun and moon are increasingly finding their way in the making of rangoli designs.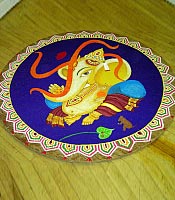 The designing of two interfaced triangles represents Saraswati, the Goddess of learning and knowledge. The twenty four petal lotus flower is drawn in such a manner that it encircles the triangles. In the outer circle, the footprints of Goddess Lakshmi are drawn. For each corner, there is a footprint. The designing of rangoli differs from place to place like in North Bihar; the footprints of Lakshmi are drawn in such a way that the toes point inwards, indicating the entry of Laxmi in the house.
All that goes in the making of a rangoli comprises of rice flour, pulses, leaves and a sincere effort. Mostly, you'll get to see rangolis in white color, as it is a color that stands for purity, peace and serenity. Rice is a symbol of prosperity. Therefore, a paste is prepared from rice and used for creating wonderful rangolis for Diwali. To fill the white rangoli for giving it a distinctive look, people sometimes use turmeric. Vermillion is also increasingly heading its way towards rangoli, as it is considered highly auspicious.