When it's the time for the celebration of Diwali festivity, the markets get stocked with various kinds of decorative items, ranging from attractive banners and door hangings to ornamental candles, diyas and lamps. When people talk about Diwali, the festival of lights, the first thing that strikes the mind is undoubtedly the Diwali decorations. Read on to check out some Diwali decoration ideas.
To begin with the task of embellishing the house for Diwali and making it appear brighter, the first and foremost thing is to clean the house thoroughly, making it completely dust free. People usually apply a fresh coat of paint on their walls and doors to lend a revitalizing look to their dwelling place. Diwali is the time to adorn your house in a traditional manner, using the various decorations for Deepawali festival. These decorations help a great deal in adding pizzazz to your home.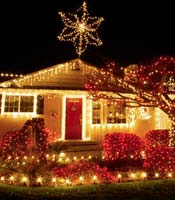 When you don't want to spend loads of money on buying new furniture for your house, then it is best to change the basic settings of the furnishings and other decoration pieces. It will give your house an entirely different look. The traditional items that are hitting the markets since many years are undergoing constant modification to suit the needs of the modern times.
To give your abode a festive charm, hunt for some traditional door hangings, which are beautified with mirror work. As a part of Diwali decorations, people draw rangolis that are very pleasing to look at. If you want to further enhance the appeal of rangoli, you can border it with decorative diyas and candles. Illuminate your entire house with colorful lights. Place diyas at every nook and corner. Decorating your house during Diwali time is great fun and is enjoyed by all.