The Hindu Goddess Durga, who is portrayed as having ten arms, is believed to have nine different forms. On one hand, where we get to see her in the form of a gracious woman, who symbolizes the female dynamism, then on the other hand, she is given a terrifying look of a destroyer that is apt to frighten the demons. Read further to know the different names of Goddess Durga.
Different Forms of Goddess Durga
Durga Shailputri (Daughter of Mountain)
As Durga Shailputri, Maa Durga is worshipped as the daughter of the mountain Himalaya. People are of the say that, in the previous birth, Durga was the daughter of a man named Daksha. She was called by the name Sati. Once it happened that, Daksha conducted a large scale yagna, in which he invited all except for Shiva. But Sati was stubborn to meet Lord Shiva. Daksha then insulted Shiva, which Sati could not tolerate and as a result, she burnt herself. In the next birth, she became the daughter of the mountain Himalaya. Her name in this birth was Parvati and she got married to Lord Shiva, whom she had always worshipped.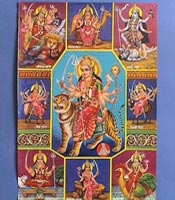 Brahmacharini
Brahmacharini is the second form of Durga. As Brahmacharini, she is portrayed as having rosary in her right hand and Kamandal in the left one. Once it happened that, Parvatiji was playing along with her friends and Naradji came and saw the lines on her palm and said that, she will get married to Bhole baba. He also said that, she is required to perform penance for him. Acting upon the advice of Naradji, Parvati told her mother Menaka that, she would only marry Bhole Nath or else she won't marry. Thereafter, she followed the advice of Naradji and went to observe penance. It is owing to this reason that, she is known as Brahmacharini.
Chandraghanta
In the form of Chandraghanta, she is portrayed as having a half moon on her forehead. She is shown as a beautiful woman with golden hair. A symbol of bravery, she is portrayed as having ten hands holding different kinds of weapons in each. This image of Durga is meant to frighten people having evil minds.
Kushmanda
In the form of Kushmanda, she is shown as a charming woman riding a lion. She has been given the name "Kushmanda", as she really likes the offerings of "Kumhde."
Skanda Mata
After having observed penance, when Parvatiji got married to Lord Shiva, she gave birth to a child named Skanda. Skanda is the head of the army of Gods. As Skanda Mata, Durga is worshipped as the Goddess of fire. She is shown sitting on the lotus with her son Skanda seated on her lap.
Katyayani
People are of the belief that, the son of Kat named Katyayan had observed penance so as to get Paramba as his daughter. When Durga was born to Rishi Katyayan in the form of Paramba, she was given the name "Katyayani".
Kalratri
Kalratri is the seventh form of Goddess Durga. As Kalratri, she is portrayed as dark as night. The necklace that she is wearing shines in a manner resembling the lightening. She has three round eyes. Flames of fire are shown coming out of her nose. She takes a ride on the Shava, as in dead body. In her right hand, she is holding a sharp sword. By her scary look, she frightens the demons.
Maha Gauri
The eighth form of Durga is "Maha Gauri." She is portrayed as an eight year old girl, who is wearing clean white clothes. She is shown as taking a ride on the bull. She has got three eyes and four hands. There is a trishul in her left hand. People are of the say that, when her body gets dirty due to the dust around, Lord Shiva cleans it with the holy water of Ganga. After that, she looks bright and charming.
Siddhidatri
The ninth and the last form of Durga is Siddhidatri. In totality, there are eight siddhis, namely Mahima, Prapti, Prakamya, Garima, Anima, Laghima, Iishitva & Vashitva. It is said that Lord Shiva had derived all these Siddhis by worshipping Maha Shakti. In this form, the Goddess is portrayed as having four hands.