On the festivity of Diwali, people gather to offer prayers to Goddess Lakshmi and Lord Ganesha, who are believed to bring good health, wealth and prosperity. There is a proper time for performing the Diwali puja. People keep their doors and windows open at the time of Diwali Lakshmi puja, thus giving a welcome to the deities. It is believed that the deities visit the homes on the occasion of Diwali. Read on to know more about the Laxmi Pooja on Deepavali .
At the time of Diwali pooja, people make offerings to the Agni Devta, the Lord of fire. It is a way of offering the food, specially prepared on the Diwali festivity, to the deities. Diwali puja basically consists of sixteen steps, in which each step represents a ceremony that should be performed by a Hindu during his lifetime like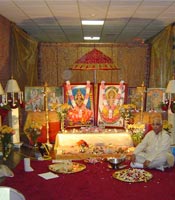 welcoming the deities, providing them a place to sit, washing their feet, offering food and clothing to them and seeking their divine blessings.
The offerings also include fresh scented flowers and various kinds of herbs. The other things associated with the Deepawali Lakshmi Ganesh pujan are singing of songs, chanting, ringing of bells and blowing of conch shells. To ward off the evil spirits, tiny lamps made from clay, more commonly known as diyas, are lit. It also serves as a means of expressing self enlightenment.
After the puja is over, sweets are offered to the Goddess as 'Naivedya'. It is then distributed in the form of 'Prasad' to the people. It is followed by the exchanging of gifts and greeting cards. Yummy feast is served to all. People visit their friends and relatives to wish them Happy Diwali.