When it's the time to make preparations for the celebration of the Diwali festivity, people, especially the kids, wait eagerly for the Diwali mela. The concept of hosting Diwali fairs is gaining popularity not just in India, but also overseas. The Diwali fetes give a fabulous opportunity to the people to meet the other members of their community and greet each other 'Happy Diwali.'
For the Hindu community, the Diwali mela serves as a great means to get in touch with their cultural roots and make their children aware about the rich cultural heritage of India. The fetes provide a platform to build the bonds of friendship and develop the feelings of brotherhood. At many places, these Diwali fairs are organized for a social cause, wherein the money earned is contributed to charity.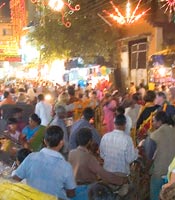 The highlights of the Diwali fairs consist of various cultural programs including the magic shows and puppet shows for kids. There are different kinds of games, which are enjoyed, both by the young children as well as the adults. Kids enjoy the merry go round swings. The eatables consist of yummy lip smacking snacks and beverages include soft drinks, tea and coffee.
There are stalls that exhibit various handicraft items that can be placed as a decoration item in the showcase of your living room or bedroom. You can also find stalls of pottery making. Different kinds of competitions are held, in which people participate enthusiastically. Sometimes, these fetes also include sizzling performances by renowned celebrities.