Prayag Snan refers to the bathing ceremony that takes place during the grand celebration of Kumbh Mela festivity, which has a lot of religious significance for people all across the country. Bathing ritual is performed at the spot where the Triveni Sangam takes place. Triveni Sangam connotes the joining together of the sacred rivers Ganges, Yamuna and Saraswati. Taking holy dip in the sacred water is believed to wash away all the sins committed by mankind. It is also said that the one who performs the bathing ritual with complete faith in the Almighty God, gets liberation from the cycle of birth, death and rebirth. To know more about Kumbh Mela Prayag Snan, read on.
On the dates that are considered auspicious for holy bath, processions of sages, saints and yogis take place. These great people can be seen moving ahead on colorful chariots,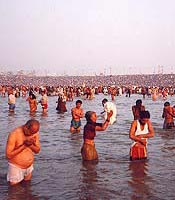 elephants, palanquins and other traditional modes of transport. As these holy spirits cross by, they radiate positive vibrations to the people and also give them their blessings. The whole experience is simply breathtaking. People go in groups to take the holy bath in river Ganga. After the saints, yogis, ascetics and sages have taken bath, only after that other people who congregate there to be a part of the Kumbh Mela festivity proceed towards the river Ganges for taking holy dips.
Taking holy bath in the river Ganges and that too on the most auspicious date of the Maha Kumbha Mela gives an opportunity to people to purify their body and soul with amrit, i.e. the sacred nectar. Prayag Snan bathing ritual enables the performers to get rid of all the pains, sufferings and miseries of life and head their way for heaven. Prayag Snan has quite often been associated with the awakening of conscience. It is such an awe inspiring experience that it will leave an imprint in your mind and will become a life time memory.